Our team is growing! View our current openings! Read More!
Get Started Today!
Thank you! Your submission has been received!
Oops! Something went wrong while submitting the form.
How Much Can You Save?
Thank you! Your submission has been received!
Oops! Something went wrong while submitting the form.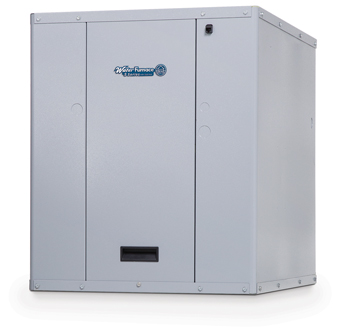 5 Series 504W11
16.1 EER / 3.3 COP
Ultra Efficient Hot Water Generation - up to 6 tons
The 5 Series represents some of our best features and efficiencies. Its advanced components offer a level of comfort and savings that's far greater than any ordinary system and among the geothermal industry's highest. The 504W11 high temperature hydronic heat pump with OptiHeat technology is our geothermal solution for boiler replacement. Capable of delivering up to 150°F leaving hot water, this system is perfect for baseboard radiator systems, underfloor radiant applications, overfloor radiant applications, and fan coils. Typical geothermal hydronic systems are limited to water temperatures around 130°F which can make replacing fossil fuel boilers difficult. This system has been designed specifically to meet these higher temperature requirements and makes upgrading to a WaterFurnace system easier. It utilizes an additional heat exchanger to divert excess heat and reinjects it into the system, creating higher exiting water temperatures and optimum compressor operating conditions. Smaller loads are required and result in the ultimate in efficiency. Every unit is computer run-tested to ensure flawless performance at start-up – and in the unlikely event of a malfunction, they're backed by the best warranties in the industry. Choose a geothermal system that's Smarter from the Ground Up.
About Idaho Geothermal, LLC
Idaho Geothermal, LLC is proud to serve the people of Meridian and the surrounding area with prompt, quality service. We install WaterFurnace products which have industry leading warranties and performance. We pride ourselves on exceptional customer service. Call 208-895-0925 today to schedule a service appointment or for a free, no-obligation consultation. We'll help determine the perfect system for your home or business. 

Our team services most major brands of geothermal and HVAC equipment. We've been proudly serving Meridian and the surrounding area with top of the line products, service, and maintenance for years and hope to do the same for you, give us a call today!
Contact Idaho Geothermal, LLC